Juggling the demands of everyday life plus the additional demands of a young child is difficult for parents of all ages, but teen moms face a unique, daunting set of challenges and these 10 Nigerian celebrities that became mothers during their teens have successfully raised their children either with a spouse or single-handedly.
Some had theirs as early as 14 years. Most of them got married at tender age and started making babies immediately. See them below…..

Genevieve Nnaji
The star actress became a mum at age 17. She has a daughter, named Chimebuka. Ms Nnaji got pregnant when she was in secondary school, as a teenager. She kept the pregnancy. Today she is happy and proud that her daughter is now an international model.
However, the savvy actress has since been keeping her precious daughter away from the prying eyes of the media and gossips.

Shan George
Shan George got married at tender age of 16 and had her two boys who are now men, immediately after marriage. Unfortunately, Shan later walked out of the marriage.
According to her, "Being married at the age of 16 was just like a child still living with her parents. It was more like an obligation. I don't really want to talk about it because of my children," she had said in an interview.
Meanwhile, the talented actress welcomed her first grandchild on September 7, 2014 as her first son, Delnoi had a beautiful baby girl.

Clarion Chukwurah
Talented and daring actress, Clarion was impregnated by Sir Shina Peters many years ago when they were dating. She got pregnant at age 18 and had a baby boy in the person of Clarence Peters, the multi-award winning musical video director
51-year-old Clarion got married for the third time to America -based Anthony on April, 2016.
Omotola Jalade-Ekeinde
Nollywood actress Omotola met her pilot husband at age 16, got married to him at age 18 and had her first child, Princess Ekeinde, at age 19 and later had other three kids.
However, when asked if she had ever considered the fact that her daughter, Meriah who is now 18, could get married any time and she would end up becoming a grandmother before her 40th birthday, Omo sexy as she is fondly called said, "I don't care much about it. I don't even want to think about that because I got married early. What I always tell people is that all fingers are not equal. The fact that I got married early does not mean that my own child will get married early. My mother didn't marry early. So it is not hereditary. But if my daughter wants to get married early and I like the guy and If I see that he is responsible enough, why not?"

Ada Ameh
The popular actress had her first child at 14. According to her, she was dragged down that path by peer pressure. She was once reported saying, "Sometimes, I ponder on that. I had a child when I was 14. My peers influenced me. But it has been some time now."
The 40 years old plus-sized TV star is still single though but believes that she would someday become a Mrs. Somebody.
"I am still very single. I believe I will get married some day. I don't know when, but I will be married. I am beautiful. I am fearfully and wonderfully made. When the time for marriage comes, it will happen. Some people are late starters while some others are early starters. Maybe you will qualify me as a late starter in marriage. The most important thing is that I will get married some day.
The Akwa Ibom actress got married at the tender age of 15 and started having kids almost immediately."We got married in 1985 and divorced in 2002. The marriage did not last long. We were young when we got married. I was 15 then and he was 18." She had 3 kids before her divorce.

Liz Benson
Super star actress, Liz Benson got married to her first husband, Samuel Gabriel Etim at a very young age. She had her first child before 20. The marriage had already produced 2 girls and 1 boy before her husband died in her mid twenties.
Ireti Doyle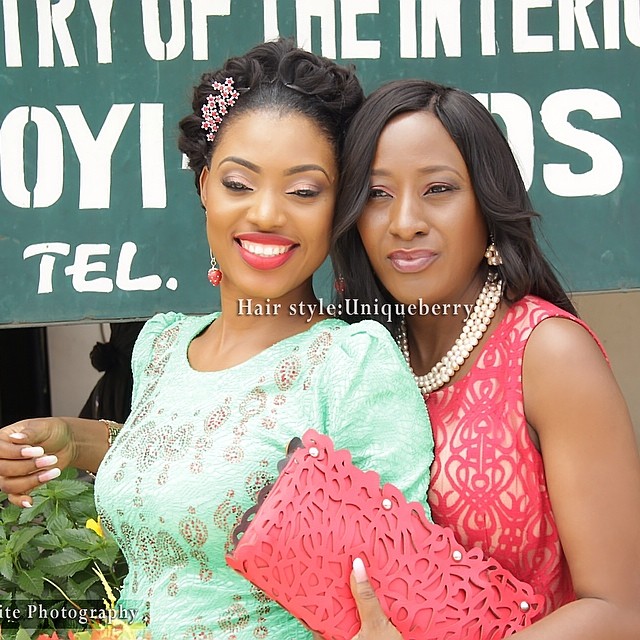 Ireti Doyle had the daughter before she got married to her present husband, Patrick Doyle.
According to her, she had some problems with her mother not understanding her and vice versa. Now she is the mother of a 26years old lady and 4 other children
"I remember vividly my communication with my Mum and how and when it went awry. I know the things my mother said to me that got to me the wrong way so I don't say them to my daughters. Being a teenage mother is no picnic, back then or even now. As a teenager, you have no business being a mother. You should be discovering yourself, finding out who you are and what your dreams are," she opened up during a recent interview.

Waje
Waje has a daughter, Emerald, who she had in March 28, 1999, when she was 17 years old.
Recounting life as a young single mum, the sultry singer said: "I was young. He was young. Our relationship now is very cordial. We respect each other. He has not always been a part of my daughter's life until recently. He met her last year. When she was quite young he showed interest but my fear was that he won't be consistent. I didn't want a situation where he would come in this year and leave the next. So I had to wait till I was sure that he would be there."

Sikiratu Sindodo
Nollywood actress Tayo Odueke popularly known as Sikiratu Sindodo had a daughter while in her teens. Her daughter, Damilola Sulaimon, has now grown to a 19-year old damsel.