She kept being strong, regardless of loads of controversies trailing her. Ebube Nwagbo doesn't need much introduction to the lovers of Nigeria movies.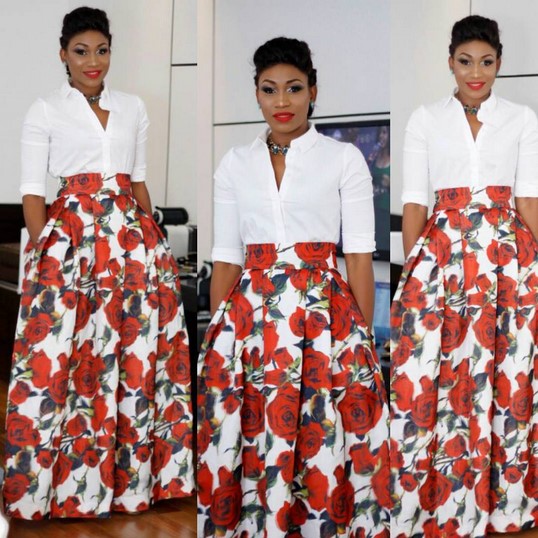 Her big break came about nine years ago in 2003 when she featured in Arrested by Love, alongside top-flight actors like Pete Edochie and Jim Iyke. And since then she has virtually been on a roller coaster.
This fair and beautiful diva aside her youthful innocence, professionalism and quality acting has also had her own fair share of pains and tears that is undoubtedly associated with those in the lime light.
In this interview at her house situated in the heart of Ikeja, the Anambra state born actress and owner of Posh hairline granted a no-hold barred interview, revealing her good, bad and naughty side.
So far what would you say you have achieved this year?
Well, I can't say I haven't achieved much neither would I say I haven't achieved anything, but so far the year has been good. I am alive and healthy for the past months.
I have done 60percent of them; in my business, career and personal life also. I am not going into detail but I know I have at least done something tangle this year.
You mentioned business, what kind of business do you do?
I have my hairline; Posh hair and I couple that with my acting career. It was same business that took me away from the screen for a while but am back on screen. I just needed time to focus on my hair line, take it to a standard then bounce back to the screen.
Why did you choose to go into hairline?
Yes, I have a business side of me. And I needed to invest my money into something that would always be there, something that I could fall back on when I eventually stops acting. Then a friend sold the idea of a hairline to me, I went for it. Started working on it, made contacts, travelled out to do studies and all that. I love looking good and I believed that for a lady to look good, she has to start with her hair. As at that time, the human hair was in so many vogues, so I capitalized on that as a kick off point.
It's all about my love for looking good and need to invest my money into something tangible.
How accessible is Posh hair and how do one differentiate it from other brands of human hairs circulating in the market?
Well the Posh hair has my face; I am the face of my brand. The unique thing about it also is that we have specify distributors, but one can do also do business directly with me. Besides, I don't think there's another hairline called Posh. I registered it, so it's totally mine.
Do you think that with time, you will add other products like make-ups or cloth line to Posh hair?
No, I don't think so. I am not a fan of makeup. Dress line, no, because everybody is already into that. I don't want to go into what everybody seems to be doing. Mine has to be totally different and trust me, it is. So for now, just Porsche hair, no plan to add other things but 'never say never', anything could come up tomorrow.
What would you say fame has deprived you of?
First and foremost, fame has really deprived me of my privacy, then secondly, in as much we can't do without the press but they sometimes makes matters worse with their fake news. And people have so much trust and believe in the media, whatsoever they say about a person, they swallow it both hook line and sinker.
Then another thing I am fighting now is someone impersonating me so God knows how long. He or she does that on Black Berry, Facebook, everywhere. He goes about collecting money on my behalf. It has being going on for a while now, a d I am tired of talking about it. I just have to do what I have to do to put a stop to this madness. I am happy people out there appreciate what we do, but some other persons are also out there to tarnish the image that took you years to build. And you can't start going from door to door to start explaining to everybody the true side of the story. So ironically, it is true the same media that published the news that you still have to use to reach out to people with your own angle to the whole story. It's kind of funny, but what can we do.
Fame has a good side and a bad one. So with every other job; they have their own hazards. The price one has to pay to be who he or she wants to be. I like my job, in as much as it has its own down side, nothing is perfect.
How do you cope with the rumors and controversies trailing you?
I am not going to lie, it's just crazy, especially when it's not true but if am not famous, and who would want to talk about me. But we are all humans, most times these stories really weighs me down. It pains me more when journalist would carelessly go make stories public without hearing or confirming from the main source. They just write whatsoever they feel like, because they have the power. Anyways, it comes with the job of acting so one can't run away from it.
Did you truly do a boobs job?
That was crazy news I read on the papers, I don't know how they came about it. But I think there was this picture of me that my boobs were revealing and nice, I believe it invented the whole story. People just can't believe you could naturally look so good, for real. Even my friends and colleagues in the entertainment industry believe it is true. Some gossip about it, some gist, some tweet, while those who have the courage ask me about it. And I keep on telling them it's natural and God's gift to me. I have never done any form of body enhancement.
And you don't intend doing one in the nearest future?
Well for now, no. but like I used to say never say never. If the need arises in future I might but I don't see any reason to do it now. Even if I did, I should be so proud to carry it around because it's my money. I don't condemn those who do it, if they could afford it why not.
What could the cause of so much rivalry amongst Nigerian nollywood stars, both male and female alike?
In a business where women dominate, what do you expect? Besides such beefs and challenges makes one want to work harder on yourself to be a top of them all. Keeps you focused and going. As for me, I don't want to be like anybody am comfortable with who I am. The industry is a very large place, so I don't see the reason we should be fighting ourselves. But is happens in any place you find humans, we are competitive in nature. It is just everywhere, not just nollywood.
Are you saying you haven't being caught in such web of rivalry?
I don't just have time for anybody. Beefing is all about jealous and inferiority complex. I am comfortable with who I am, I don't imitate or want to be like anybody. Somebody out there wants to be in your shoes, so they do everything possible to bring you down. My advice to them is that being doesn't pay, its better you work hard on yourself to be better.
So you are saying someone out there in nollywood is really beefing you?
It happens, it's everywhere. Somebody out there, don't even like the fact that you are alive and breathing. Couple with my business, I know a lot of people hates me for being who I am. But come to think of it, if everybody like you, then there's something you are doing right. I don't expect everybody to like me. Some are intimidates with who I am, I don't care. As long as they don't stand on my way. Everybody mustn't like Ebube; it's as simple as that.
Aside what the press and other people are saying about you, tell us who the real Ebube is inside out?
Ebube is just like a girl next door, in as much as I try to keep to myself, but the industry where I find myself is a complex one. I have friends and colleague I mix up with. I am easy going too but it takes some time to understand my kind of person. People out there thinks they know me too well, but they dint even know half of me. You have to be very close to me to know the real Ebube, because most times I camouflage just to create an impression. The real me is not what you see in TV or read on the papers , but I am also human; I have my moods, my bad sides, my flaws, etc. basically I am very simple person, a young girl that likes working hard and looking good, I love myself so much, same with my family. I love the good thing of life, so I work hard to get them. I wasn't outspoken before but now I am. Ebube likes being happy and doesn't like stress at all. I only stress myself when money is involved. (Smiles).
Talking about family, tell us about your background?
I am the eldest in the family of six. My parents were very strict so sometimes when I do what I do, I always remember where I am coming from. So people shouldn't think I didn't come from a decent home. I don't forget the fact that I have younger ones that look up to me, then parents that took their time to train me in every aspect, so I wouldn't want to hurt their feeling in any way. I am not perfect or a saint but I always remember where I am coming from.
How about your own personal family, what are your plans towards that?
It is always going to be at the right time, and don't ask me the when is the right time (laughs). Am single but am not searching. Why would I. well, I am seeing somebody, but starting my own family I can't say for now. But I will do that at the right time. I don't like doing something and later jump out of it. I take my time to do whatsoever I want to do making sure it is the right decision. No rush!
Seems you are scared of marriage because of the countless cases of divorce in the industry?
(Loud laughter) my dear one has to be scared oh. Well, it is scary although no one goes into marriage believing she would soon jump out of it. I strongly believe that before a couple considers divorce, they must have put in their best to make it work, all to no avail. Trust me. Marriage in the limelight is not easy, even those outside it are not surviving easily. For me, before I take the decision, it just has to be right. I have learnt a lot from other people's mistake and that has helped me a lot.
Being in a relation alone is not easy not to mention marriage, I just want to do it right to avoid regret. So I am trending carefully.
When that anticipated right time comes, would you want it to be a grand party, talk of the town, outside the shores of Nigeria, etc?
Well, I can't say for now, it all depends. But my kind of person, I don't like big parties. I just can't say for now, anything could happen at that time. We both have to agree on what we want before going for it; either big or small.
What the secret behind your stunning looks at almost all events you honor?
I like looking good in what I am comfortable on, I go for what suits me. I don't really go for trendy fashion wears. I know my flaws and work on them. I have made it compulsory that whenever I go for event, I must look good. And I must make a fashion statement; Ebube was here. I have some fashion no-no. If I have to wear something short, then short it is, like wise long. I can't be caught in-between; neither can I be caught on a loose fitted gown. I know my figure and what suits it. And I don't wear matchy-matchy things. I don't do much of make-ups too.
Do you do alcohol?
Not really, I do but just socially. I take alcohol when you go for an event or the need calls for it.
How do you cope with sexual harassment?
I try as much I can to carry everybody along, but always try to let them know that I am for one person and would always be for one. Some come as fan some others as more than fans, but I appreciate them all. But sometimes, I just have to be rude to those who go pass the extreme. I try to let them know I am human and have feeling too. Even the ladies sometimes, they believe you must always be nice to them, pick their calls, be their best friends and all that, they just don't understand how it goes. And explaining to them is another thing.
Aside the regular fans, there other notable men in the country that want to have a feel of what Ebube is like, how do you cope their demands?
I haven't come across any those. Maybe they would want to but they haven't seen a way to reach me. Or do our numbers fly in the air. Because my hairline is moving some gossips are saying there are lots of big men out there sponsoring me and all that, but I am not moved by their rumors. I just believe that I am good at what I do, that's why all these things are happening. Porsche hair is owned and financially sponsored by me, so if anyone thinks or says otherwise, let he or she come out in the open and indicate.
Which of the scandals hit you so bad?
All of them did, because I am human. I have grown a tough skin towards scandals. I just wave some aside and react to others when it is necessary. Because if you keep being quite, they would assume it was all true.
How far would you go in flaunting your boobs or cleavages in movies?
In as much as I can't act nude, I don't even think people would like to see my naked pictures, but I can't do well on such movies, but I have to flaunt what God gave me. Of course, it's God's gift so why would I flaunt it. No apologies to anyone.
Why did you decide to go for tattoos too?
I just like them; I have one on my hand and another at my back with name on it. I might decide to add another one on in the nearest future. I am particularly crazy about tattoos, but I just like them. I got mine in 2003 and it wasn't so much in vogue then, so I wasn't really following the trend. Some people see it as a sign of being a bad girl, but its part of the industry we find ourselves in. I would have to go for one last one, and then am done with tattoos.
Describe your kind of man
It is all about understanding. A typical African man hardly understands. Worse still with the kind of job I do and the day to day running of my business, I don't know how many men would be ready to cope with that. Some believe actresses would make a bad wife and mother. Even the presses too are not helping celebrities in their relationships. Patience, understanding and love, not all man has all this. He has to be with you for the right reasons.